Street Boss Free Download

About This Game
Street Boss is a 3D, Action, Fighter, Open World, Third Person Shooter, Fist Fight game.
Features: Player can control only one character in this game. Camera view of this game is 3rd person view. You can't get or change player character's equipment. Player can't customize the look of that character. Player character can gain experience and level up by beat other npcs or completing events. When player has more levels his damage, health and stamina increases.
Graphics: Graphics style is 3D lowpoly.
Gameplay: Every character has stamina and health in this game. If a character has low stamina his attacks deal less damage, he can't run, dodge or jump. If a character's health reaches 0 he dies. Player character will respawn after some short time but he will lose some xp and because of that player character is become weaker.
Player character can move around, jump, sprint, punch for head or body, push, block or dodge incoming attacks, pick a rock from ground and throw that rock.
Map: There is only one map in this game and it is a small town.
Events:
Events can happen after waiting some time. Events complete in 150 seconds. Events are selected randomly.
1- Take down drug dealers.
2- Take down punks.
3- Take down gangsters.
NPCs:
Lv 2 Hipster, Lv 2 Blue Haired Girl, Lv 5 Blonde, Lv 5 Tourist, Lv 10 Hobo, Lv 10 Punk, Lv 15 Bro, Lv 15 Drug Dealer, Lv 15 Officer, Lv 20 Gangster, Lv 25 Uncle
Lv 15 Bro and Lv 25 Uncle are friendly characters. Lv 10 Punk, Lv 15 Drug Dealer, Lv 20 Gangster are enemy characters.
Become the boss of the streets. Take down anyone who stand against you.
Street Boss is an open world fighting game. You can walk around and attack whoever you want.
You are born in streets and you want to become the boss of the streets.
There are too many bad people in your neighbourhood that disturb the peace. Drug dealers, gangsters and some punks are try to put you down. You have to fight against them to become a boss.
While fighting, you can push your enemies or use your fists to knock them down. You can also throw rocks from a distance. To defend yourself you can block or dodge incoming attacks.
Your goal is fight against bad people and get more experience so you will become better fighter to protect your neighbourhood.
But to protect your neighbourhood you have to fight a lot and become stronger. Also your bros always ready to fight with you against your enemies.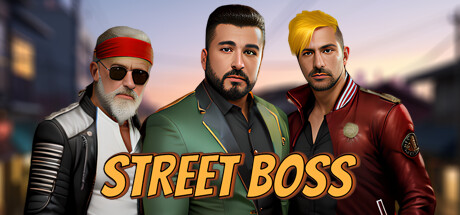 Title: Street Boss
Genre: Action, Casual, Indie, RPG, Early Access
Release Date: 28 Feb, 2023
Early Access Release Date: 28 Feb, 2023
Street Boss Pre-installed – Download file, run, wait for few minutes to download all files from game server (depending on your internet speed), PLAY.

Free Download Street Boss Game
Full Game, latest version. Download for Free!